Use EasyMapMaker to export your visible map to a pdf file or an image (not supported on mobile or tablet devices).
Export your map by following the steps
Create and save a map using either a Pro or Premium Account.
View the live map (go to My Maps or click on the generated link) after saving the map.
Click on the 3 horizontal lines to reveal a menu.
Select "Download Map Image or Pdf"
Choose the approriate options from the modal then click "Download"
PDFs and Images cannot be generated on the create or edit page, only from the live map when you are logged in.
A live map url is something similar to https://www.easymapmaker.com/map/9a804fec8c754bf7cd9f4bc435fafb14
The visible map height is limit to 7200 pixels for high resolution and 3600 pixels for regular resolution. The width is limited to 10800 pixels for high resolution and 5400 pixels for regular resolution.
Pdf and Image generation (exporting) supports the following:
Clustered pins (pie charts and circles)
Custom pins (automatically resized)
Maker pin labels
Radius around a point
Category Legend (optional)
Map styles
nearby filter circle visible on map
Pdf and Image generation (exporting) do not support the following:
driving directions
user styles defined in a custom css file
open marker descriptions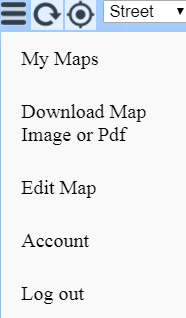 Pdf and Image Export Popup (modal)